Punished for thinking outside the box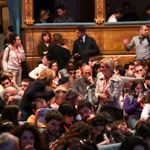 Marko Milacic, Montenegrian journalist volunteering for the International Journalism Festival, has appeared on the front pages in his country.
Marko Milacic, from Montenegro, one of the volunteers in this year's International Journalism Festival in Perugia has been working for the national public service broadcasting company  RTCG (Radio Televison of Montenegro) for more than 3 years now, in the foreign affairs department.
He was in the headline of the biggest newspapers of his home country, Vijesti yesterday, explaining what is the outcome of his participation in the antigovernmental protest a few weeks ago.  "My editors told me to stay away from broadcasting 20 to 30 days, and not appear on the screen." The editors told him that indirectly he supported their resignation as well. "I supported the protest because I want to welcome the awakening of the citizens's consciousness, that is the conditio sine qua non for real democracy."
The protest was organized on a Facebook page called "Street protest against Mafia", with about 3000 supporters. They had basic democratic demands. "We have had the same government for the past 20 years now, it has to end. This is not the official opinion of the medium I work for, it is my belief. Free citizens are the first condition of democracy, they need to be able to disobey, disagree, go to the street if it is needed." Marko says that he would still like to work for the public service broadcasting company, because he believes that it is their responsibility to stand for, and serve, the civil society and represent opinions of all kind.
Montenegro is in a transition situation as a candidate member of the EU, and is going through the integration process. Organized crime and freedom of the press are examples of the fields where the country needs to improve.
Kata Molnár