leaving #IJF11: thinking further on collaboration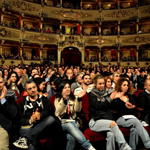 If nothing else, delegates to Perugia's International Journalism Festival might walk away from the conference with fresh ideas for delivering news to readers and audiences.
On the weekend, a collection of open information advocates and users discussed ways data can be shared, for example.
"Data is not in and of itself a value. Data is often fairly uninteresting," said Jonathan Gray, of the Open Knowledge Foundation during a panel discussion at Centro Servizi G. Alessi. It's the job of reporters and people involved in the open data movement, he argued, to make available data useful to people's everyday lives, and to do valuable things with the government information that should be available to all.
Ernesto Belisario, president of the Italian Association for Open Government, described the three pillars of open government as transparency, participation and collaboration.
"Open data means resorting to network dynamics," Belisario said in Italian; journalists should not consider themselves to be self-sufficient, but should crowd source to get through floods of data.
He noted governments or holders of information sometimes argue data should not be released to the public because it can be misinterpreted. Belisario said the suggestion is the same as arguing people should not be able to vote because they might make the wrong decision.
Collaboration was a key theme running through the six-day conference, as journalists were encouraged to think outside their newsrooms, and away from traditional reporter-source relationships or story-telling practices.
While at a session in the Hotel Brufani Saturday afternoon, Guardian Datablog and Datastore editor Simon Rogers discussed the need to use tools like Google Fusion Tables so that readers can replicate the Guardian's practices and play a part in analyzing data. Meanwhile Josh Young, the vice-president editorial and expert operations for sulia.com, did not describe Twitter as a place to find stories or sources, but a place where the story itself is sometimes told best.
A well-curated list of Tweets from the Egyptian revolution, he said, "was a bit like being in your living room above Tahrir Square… with your ear cocked to the open window."
Trish Audette
Canadian reporter on study leave at the London School of Economics